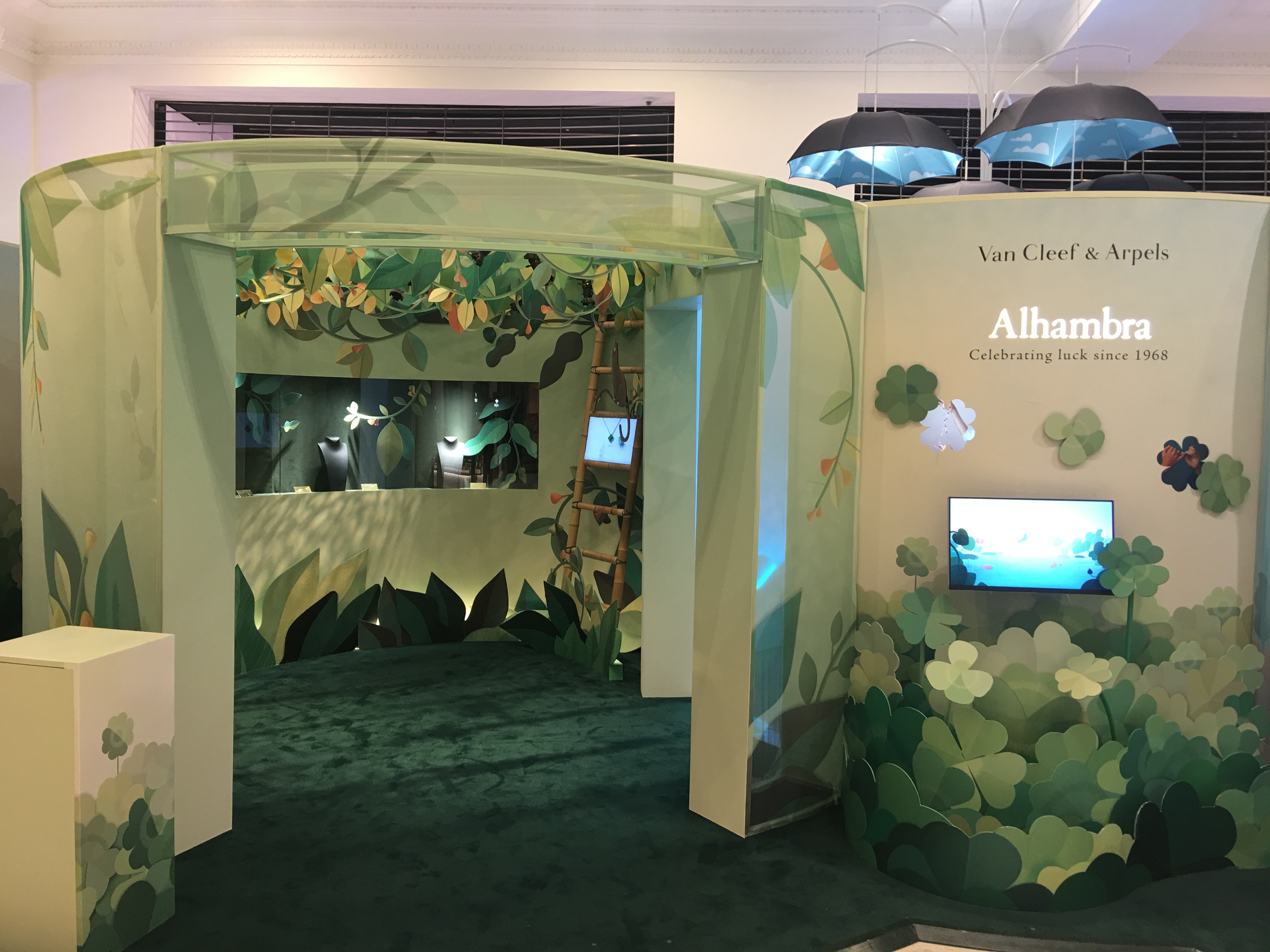 04 Mar

Van Cleef & Arpels – Selfridges, London

To celebrate 50 years of their iconic Alahambra collection, Wonder Room favourite Van Cleef & Arpels has set up a brilliant interactive pop-up space at Selfridges Oxford Street, London.

The immersive 'bubbles' within the Wonder Room will take you on a little trip from way above the clouds to submerged deep under the sea, where you can take in their dazzling fine jewellery pieces like never before.

The brief arrived into Imaginators with an exceptionally short lead time for the complex installation. Imaginators carried out the production and installation of bespoke retail branding for this premium luxury French jewellery, watch and perfume company.

Using a wide range of high quality, tactile, fabrics, voiles, gauzes, wallpapers and vinyls – Imaginators used both UV, latex and dye sublimation large format digital printing technologies to deliver an exceptionally high-quality finish for this luxury premium brand within the iconic Wonder Room.

The build comprises of three separate themed 'pods' which transform you above the clouds and below the ocean. Each pod was finished with differing materials across a variety of surfaces including flooring, complex curved structures, three-dimensional shapes and bespoke jewellery cabinets used to display the iconic pieces of fine jewellery.

Imaginators installation team, accredited with working at Selfridges, carried out the installation during five long nights to ensure the new retail space was ready for business on time. The interactive pop-up space was located in a prime position within the Wonder Room creating a centre piece for shoppers to experience as the entered the ground floor room of luxury as they entered from Oxford Street.

The design replicated a similar retail installation in Dubai.