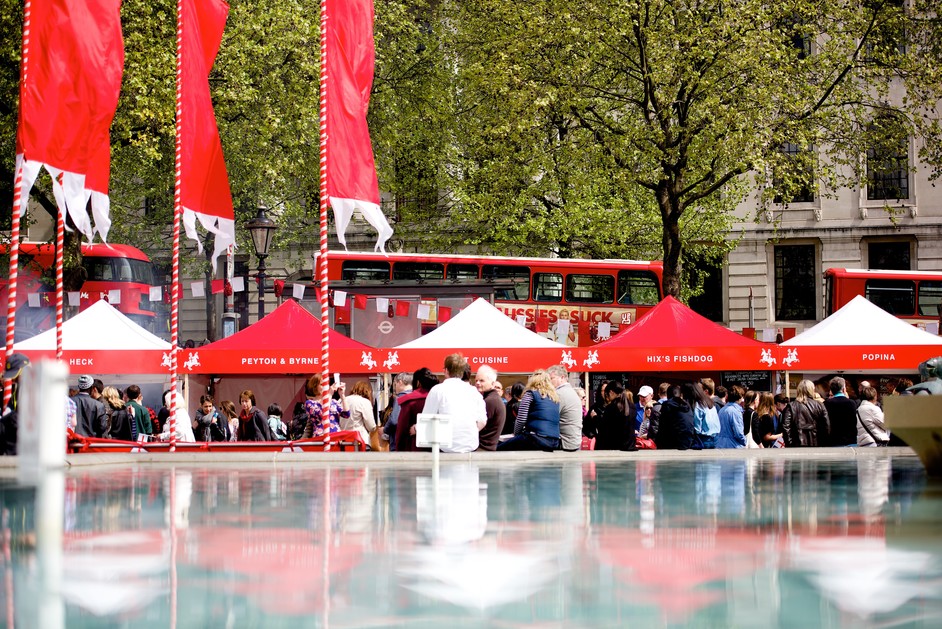 21 Apr

St. Georges Day – London Event Graphics in Trafalgar Square, London

On Saturday 21 April, St George's Day and the Feast of Saint George, is your opportunity to wave a flag, enjoy tea, cake and great entertainment, all in the surrounds of iconic Trafalgar Square and celebrate all things that delight us about England. It marks the day the dragon slayer Saint George died.

Fairs, fetes, fun-days and festivals are an integral part of English culture, and Feast of St George perfectly fits the bill.

As London's leading provider of large format digital print and an approved supplier to The Mayor of London and the Greater London Authority, Imaginators have again transformed this iconic London event space with event branding including event signage, event graphics, wayfinding signage, balustrade branding, mobile billboards and stage branding which included PA scrims, stage header and stage backdrop. In addition, as both the square and surrounding streets were closed, over 30 different street foot outlets where branded.

Host for the stage is BBC Radio presenter Abbie McCarthy, a champion of new music, who has compered at BBC Radio 1's Big Weekend and Glastonbury – music festivals Imaginators are already familiar with as Imaginators also provide event and festival branding for all stages across these iconic music festivals.

Imaginators provided full print production, installation and derig for this event and also managed the recycling of all printed products used throughout the event bringing new opportunities when recycling large format digital print, wide format digital print and superwide digital print which are all often used across events of this type.

Interested in learning more about large format digital printing in London and the possibilities for event branding?

Interested in learning more about our award winning event branding and our festival branding?

Our in-house installation team provides a seamless solution to ensuring the event graphics for your event are installed effortlessly.