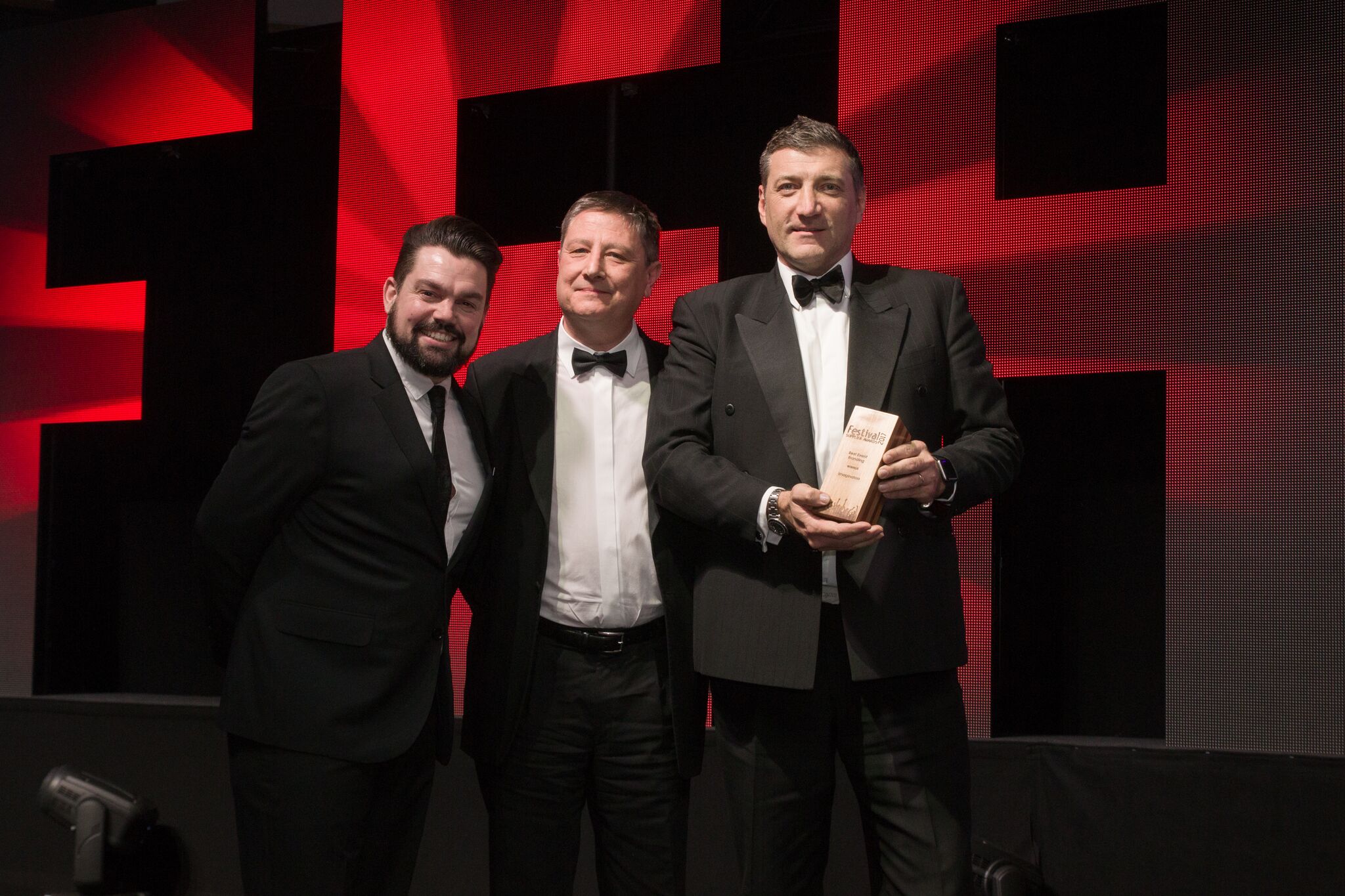 26 Jan

Imaginators win Best Branding for second year at Festival Supplier Awards 2017 for V Festival

Imaginators Production Director, Matt Tydeman and Imaginators Sales Manager Tony Hills collect the award for Best Branding at Festival Supplier Awards 2017.

Imaginators attended the prestigious Hurlingham Club Private Members Club in Fulham, London for a night celebrating the achievements of the music and festival industry.

For the second year in succession, Imaginators provided large format digitally printed graphics for the Main Stage and Stages 2, 3, 4 and 5 at both Hylands Park and Weston Park

Just being shortlisted and nominated for the second year as the industries best branding supplier for V Festival proved to be an honour. Winning the accolade back to back for two years was a wonderful achievement and acknowledgement of both the hard work and experience Imaginators provide to the industry.

New for 2016 the main 'Virgin Media' stage was an impressive 28×28 metre stage. The challenge was to devise seamless branding covering all stage truss. This was achieved in part by designing bespoke truss leg covers ensuring continuous design between the large main stage scrims. For the client Virgin Media strong and vibrant colours were of paramount importance. A series of full size test prints were produced with different graduation effects, these being mounted to outdoor test rigs built and then photographed from various distances by Imaginators production for client approval. Working from various stage CAD drawings artwork templates were provided to a high degree of accuracy to ensure best fit to the stage structure. The main scrim material was Imaginators developed Tight Weave mesh FR, this maintains air permeability to keep within specified safe stage loading tolerances but also delivers the strength of colour demanded by the client. The stage PA Scrims were printed and finished In-house utilising the companies state of the art digital imaging technology, printed sections were welded to form larger panels before various safety fixings were added to facilitate discreet catenary rigging lines to the rear of the main sheets. Quality control was maintained to ISO 9001 standards.

For the first time BBC Radio 1 sponsored stage 2 'Summer of Dance' for day one of the Festival with live broadcasts from both Festival sites. Although the Star Events Vertech stage and scrim format was maintained as previous years the stage branding changed for the weekend show days involving a night time change over for the MTV sponsored stage 2 scrims. New 'Acoustic Mesh' PA scrims were also provided to all other stages which maintained the high level of sound transparency and being the PA Scrim material of choice for many festivals.

Imaginators graphic install team worked closely with stage riggers to ensure the scrims were fitted in keeping with the clients expectations providing those all important finishing touches on-site. Backstage Artist Media/Arena The artist and media village is cited in a green field site behind the main stage. Here artists can relax and journalists are encouraged to interview and report. Various press and media partners are allocated an exclusive area where Imaginators produced and installed branded press backdrops used for photography. With a multi stage Festival way finding is always important, location specific Heras cover signage was produced and installed at key site locations.

In excess of 250,000 people attended this sell out event with headline acts including Justin Bieber and Rihanna. There was extensive media coverage and the client comment was 'The imaginators team have once again delivered, a job well done'.

Judges felt that Imaginators were 'knowledgeable and experienced and demonstrated a real understanding of print production for their work at both V-Festival sites'.
Imaginators create giant size replicas of each of our awards, highly popular with our visitors.