06 Aug

Imaginators Sports Branding for Team GB Fanzones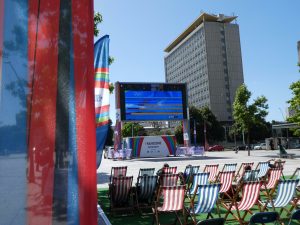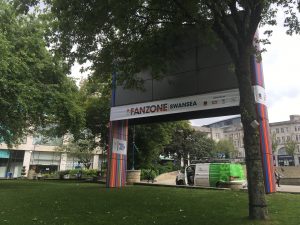 Rio de Janeiro may be some 6,000 miles away but thanks to be sports branding and event branding of Imaginators, supporters of Team GB are set to be taken closer to the action at this summer's Olympic Games as MediaCityUK is confirmed as an Official Team GB FanZone. In addition to BBC MediaCity UK, Imaginators produced and installed sports and event branding across eleven other UK cities including Swansea, Plymouth and Bristol.
As our nation's Olympians prepare to recapture the spirit of 2012 – when the United Kingdom came together to support their superhuman efforts, MediaCityUK will host live coverage of the Rio 2016 Olympic Games on the large screen in the piazza.
The MediaCityUK FanZone's big screen will be the best place to catch the action and soak up the samba spirit as the nation's finest athletes aim to make it Team GB's best ever away Games.
Sports branding and event branding at MediaCityUK included wrapping the giant uprights and walkways of the iconic video screens which form a centre piece to outside broadcasts for the BBC. Event branding also included banners, heras fence covers, scrim covers, flags, crowd control barriers and event signage.
In addition to providing all large format digital printing for the multi city event, Imaginators we engaged to provide project management, site surveys, production, installation and de-rig across multiple cities using multiple crews.
The project is a partnership between Team GB and the host venues and is funded through support from official Team GB partners Aldi, Muller and The National Lottery.
Learn more about Imaginators sports branding, event branding and MediaCityUK event branding here